Saturday, November 12, 2016
Friday, November 11, 2016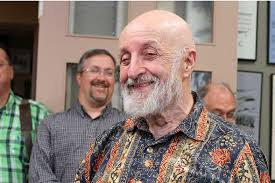 Bert Stern
Bert Stern writes of himself, "
Bert Stern is an old man who keeps writing.poems and learning to love."
After the Election
Dear Du Fu asks, "Does anyone like the poems I write
after drinking the wine of the rich?" Now America
drinks the wine of the rich. How can poems
get written at all? I know, I know, the dharma
is still the dharma, love, though it must lie low,
is still the fire that warms us, the sky, though
gray, hasn't been jostled loose nor the sun
and moon and stars and earth out of their orbits.
Maybe the soot that's fallen over everything
will one day wash away.
--Bert Stern
Monday, November 07, 2016
On Thursday November 10th at 7pm, at the Castle, 225 Bay State Road, Boston University, the second Fall BU Poetry Reading, directed by Meg Tyler, will pay tribute to Geoffrey Hill (18 June 1932 –
30 June 2016), an English poet, professor emeritus of English literature and religion, and former co-director of the Editorial Institute at Boston University. Hill taught at BU from 1988 – 2006.
Like Herbert or Hopkins, Hill's poetry is religious in its mindfulness of God. Yet, with open eyes to the age, his expression, rather than resorting to them as attitudes, intends remoteness and irony, often commenting on the contemporary world through history. In his much-anthologized poem "Ovid in the Third Reich," Hill says that "God/Is distant."
I have learned one thing: not to look down
So much upon the damned. They, in their sphere,
Harmonize strangely with the divine
Love. I, in mine, celebrate the love-choir.
Seamus Heaney noted, "[Hill] has a strong sense of the importance of the maintenance of speech, a deep scholarly sense of the religious and political underpinning of everything in Britain."
Wikipedia also tells us Hill defended the right of poets to difficulty as a form of resistance to the demeaning simplifications imposed by "maestros of the world." He argued that to be difficult is to be democratic, equating the demand for simplicity with the demand of tyrants.
The tribute at BU on Thursday evening will include readings by Archie Burnett, Saskia Hamilton, Kenneth Haynes, Marcia Karp, George Kalogeris, Christopher Ricks and others. The series is sponsored by BUCH, the Arts Initiative and CIT at CGS.
Among his many awards, Geoffrey Hill received an Ingram Merrill Foundation Award. He was a Fellow of the Royal Society of Literature and of the American Academy of Arts and Sciences. His
Collected Critical Writings
won the Truman Capote Award for Literary Criticism, the largest annual cash prize in English-language literary criticism.
Considered to be among the most distinguished poets of his generation, Hill was called the "greatest living poet in the English language." This is a wonderful opportunity to gain familiarity with and insight into a guarded albeit rich spirit of poetry.