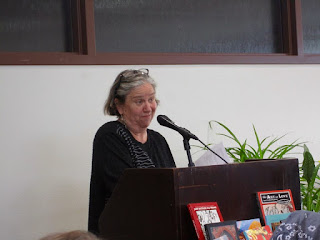 Miriam Sagan was born in NYC, raised in New Jersey, educated in Boston, liberated in San Francisco, and has lived more than half her life in Santa Fe, New Mexico. She is the author of 30 published books, including the novel Black Rainbow (Sherman Asher, 2015) and Geographic: A Memoir of Time and Space (Casa de Snapdragon). which won the 2016 Arizona/New Mexico Book Award in Poetry. She founded and headed the creative writing program at Santa Fe Community College until her retirement in 2016. Her awards include the Santa Fe Mayor's award for Excellence in the Arts, the Poetry Gratitude Award from New Mexico Literary Arts, and a Lannan Foundation residency in Marfa, Texas.
Fogg Museum
I liked it better
than the rest
of Harvard. Sad
undergraduate, I'd wander,
depressed and damp,
my boots leaking
my vision compressed
among the world's artifacts
that calmed me. Archaic
Chinese bronzes,
vessels that held smoke
or who knows what
sacrifice, a Greco-Roman torso
an Ingres of an odalisque
(now that
was something to look at!
Better than boys,
soft and voluptuous flesh,
mine? or another's?)
Each frame was a window
each painting
promised someplace else
Gaugin's "Poemes Barbares"
a kind of Waikiki Beach cliche
but still located far from here,
far from the rainy square
where I'd skip dinner, buy a magazine
and apple, read the unassigned
Jane Eyre.
Each reader sniffs the air.
There is a boat, a bus, a train,
the blue line to Logan, and a plane.
Or let me turn
inside myself
to anywhere but here,
self like the earth must spin,
the snowy road, the vanishing point
the figure's back
will led me out of this
to somewhere else.