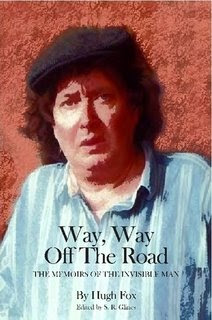 Poet Hugh Fox: Way, Way Off The Road
In 2006 the Ibbetson Street Press published a controversial memoir of the small press: "Way, Way Off the Road" by the legendary poet, critic and translator Hugh Fox. The memoir was indeed controversial, and we got more than a few angry calls from small press figures of the 60's and 70's who felt Fox's portrayal of them was less than accurate. The book covered Fox's involvement with COSMEP, (the seminal small press organization,) his encounters with Charles Bukowski, Lyn Lifshin, Harry Smith, Len Fulton, AD Winans, and many of the other players in the small press movement. In a recent editorial in The Small Press Review Len Fulton wrote of Hugh Fox:
"For Hugh Fox the reach must be always for the grasp to be ever. He takes memory, mixes it with imagination, imagery, and an almost Teutonic lexical arsenal, and flings into the cosmos for the delectation of anyone who cares to listen.
There is enough Fox to go around, and little on this planet he has missed in his fifty-odd years of publishing. Richard Kostelanetz calls him " the most distinguished man of " alternative letters of our time…."
I do have limited editions of the memoir for sale… a collector's item. The book retails at 15 dollars with four dollars for shipping and handling. (lbbetson Street Press 25 School St. Somerville, Mass. 02143) The book was designed and edited by Steve Glines.
Also for you Fox fans The World Audience Press http://worldaudience.org has released a 550-page "Collected Poetry of Hugh Fox: 1996-2007".
Doug Holder/ Ibbetson Street Press