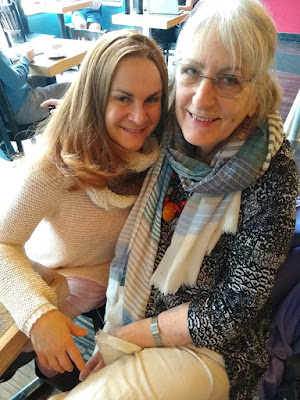 Avriel Hillman ( left) Inez Hedges ( right)
Playwright Inez Hedges and Director Avriel Hillman seemed to be joined at the hip when they met me at the Diesel Cafe at Davis Square in Somerville. It seems that the duo has great chemistry—sharing knowing smiles and quick laughter. Inez Hedges, who was a film studies professor at Northeastern University for many years, has a new play out titled, "Kafka in Palestine" that deals with the friendship of the noted writer Franz Kafka, and his sister in the early 20
th
Century. It is directed and Is being further developed for an NYC production by Avriel Hillman.
Inez Hedges, who lives near Davis Square, is very invested in the community Avriel Hillman, who resides
in
Union Square, is an accomplished actor, teacher, director, and script coach who is very passionate about theater development. She studied play development and directing at Brown University with the likes of playwright Paula Vogel and director/dramaturge Oskar Eutis of the Public Theater. She is known for her years on the HBO distributed video series, " The Babysitter's Club" and as the voice of Penny on Pee-Wee's Playhouse.
Hedges told me she has lived in Somerville since 1994. She loves the area — noting the block parties, the community spirit, and she has a particular place in her heart for Somerville Open Studios -- that she tries to attend every year.
Hillman's reflections on our city, as a native New Yorker, were much about it's unique beauty and peace, a change from New York, where she maintains many professional contacts, clients, and projects. She travels back and forth for work often, if not weekly, but values the energetic contrast of Somerville, and the opportunity to build something here that is missing in the community as a professional acting coach and developer of new works, where much of her passion lies.
Hedges, whose father was an American diplomat -- had a wanderlust of a childhood, living in Germany, France, Turkey, Switzerland and elsewhere. She told me under the regimented French school system—she never learned about French antisemitism, or even the Holocaust." The curriculum stopped in the 17
th
Century. Talk of antisemitism was brushed to the side. This, in spite of the fact that 76,000 Jews were deported to concentration camps during World War 11 from France," she said. When Inez married the noted historian Victor Wallis, and talked to his extended Jewish family—she was informed fully about the long history of hatred toward the Jews. So it follows Hedges would write about Kafka, who fretted about antisemitism in his native Prague.
I asked Hedges why she chose Kafka as a focal point for her play. She replied "I studied German as well as ancient Greek at Harvard. It happened that I was helping a friend on a project centered around Kafka's works. I wound up reading many of his stories. I was interested in many of the ideas he espoused in his writing. For instance: his concerns with stifling bureaucracy, the hamfisted, illogical rule of the state, things like this spurred me on to write a play where he was featured."
Hillman has a similar affinity with Kafka. She shared that the first piece she directed out of Brown University was a version of Kafka's "The Castle" in Seattle, and how she has always been drawn to Kafka's unique intelligence and ability to identify the absurdity of beaurocracy and authoritarian structures and his identification of systemic roles and identities that impede free will, the liberation of the spirit, and the consciousness of man. Kafka spoke to her in his innate way of challenging how societal constructs, which "we" consume and absorb, can belittle the soul.
Hillman, who is intent on developing film/theatrical work that is political in nature, is the progenitor of the "Authentic Acting Approach" dedicated to enhancing organic connections to material for actors, and is a certified instructor of the Chubbuck technique, which is hailed by A-list stars for creating dynamic award winning performances. She is also launching a new theater company that will inspire new voices that provocatively explore the notion of the heroin archetype and, like Kafka, the importance of discovering and speaking the truth.
Hedges told me she would be presenting a shortened version of the play at the Playwrights Platform Festival in Boston, and a full production is slated to be presented in Austria.
These two brilliant women, are just part of the many fascinating stories that we have here in "The Paris of New England."