Friday, November 01, 2013
Doug Holder reading at the Boston Strong/Boston Proper Reading at the Mary Fifield Art Gallery at Bunker Hill Community College in Boston.
Sunday, October 27, 2013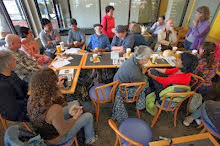 The Bagel Bards
Just got word that the Bagels with the Bards ( 1-8) Anthologies will become part of the permanent Local History Collection at the Somerville Public Library. The Bagel Bards is a group of poets, playwrights, novelists and short fiction writers that have met since 2004. Originally the Bards met in the basement of the now defunct Finagle-A-Bagel in Harvard Square, but now preside every Saturday morning at the Au Bon Pain in Davis Square in Somerville.There are over 100 members and a core of 25 to 30 folks who have shown up every Saturday for almost a decade. The group was founded by Doug Holder and Harris Gardner.
Somerville Historical Collection
The Bagel Bards
We have a vibrant community of poets and writers who meet to chew the fat every Saturday morning at Au Bon Pain in Davis Sq. Somerville Massachusetts. Our membership reads like a Who's Who in the Boston Glitterati.
These now famous bards have produced an annual book for the five years. sample it:
Bagels With the Bards #1
So it came to pass that a couple of poets ‐‐ congenially munching their bagels in the spacious basement refectory of a bagelry called Finagle‐a‐Bagel on JFK in Harvard Square, all the while conjecturing upon the potential mental, spiritual and perhaps even physical salubriousness of occasional social interface with other human beings likewise blest or cused to pursue the word, to ply their craft or sullen art, in isolation ‐‐ gave birth to the idea of Bagelbards. At any rate, here it is: The First Annual Bagelbards Anthology, in celebration of the first full year of informal weekly Saturday morning gatherings of Bagelbards in the aforementioned spacius basement of Finagle‐a‐Bagel. Read it, and eat.
Bagels With the bards #2
It all came to fruition the day we made our first bagel, after a few energetic drafts of the thing. It got up from the table, shook its rolling shoulders, yawned from the hollow core mouth of itself, and began to dance. At that precise moment, the miracle came as sure as the Matrix Oracle would have predicted from over her pan of cookies. Sunlight hit the bagel, and it became lines on the floor, long lines that would have been perfect for any chorus line, but instead filled themselves with words, words that made promises to all of us. These words spoke the premise. The poet is a baker although he may never have the dough. We looked at each other and knew this was our creation myth, this dance of language on some piece of paper, or in our hearts, or in the burrowed brow of the manager trying to wrap his head around the idea that poets gather in the corner of his place on Saturdays and spend a few hours living, living, living. O bard, a bagel has become a poem.
Bagels With the Bards #3
Bagel Bard – noun. 1. A poet that is glazed and ring-shaped whose poetry has a tough, chewy texture usually made of leavened words and images dropped briefly into nearly boiling conversations on Saturday mornings— often baked to a golden brown. 2. –verb. To come together in writership over breakfast. To laugh so hard at an irreverent statement that the sesame seeds of the bagel you've just eaten explode from your mouth like grenade shrapnel. Welcome to the third Bagelbard Anthology. As some of you know (or can guess from the above definition) the Bagel Bards meet every Saturday morning at a designated spot. We breakfast in the original sense of eating, but also, because most of us are so busy working on our writing careers that we often find ourselves starved for great conversation. Well, the Bagel Bards breakfast hang is not only a place in which to do the aforementioned, but also to observe characters who themselves could be the subjects of poems and fiction.
Bagels With the Bards #4
The Bagel Bards are a group of poets varied in age, race, gender, who meet, share poems, discuss poetry, drink lots of coffee, chew a bagel if so desired, sometimes sell their books. The atmosphere is generous and open to all, and you don't have to be a poet to attend. What I find most exciting about the Bards, people here are not conscious of reputation and achievement, but love the poem and good friendly unpretentious talk. That doesn't mean that pretensions don't exist if that's what you desire, but the coffee is strong, the people sincere and are publishers of small press magazines, pamphlets and books. If you want to be in an atmosphere that is intelligent without self-involved, convoluted literary talk of people who need to prove themselves and announce themselves as artists, here is a place to find the pleasure that good literary company may offer. — Sam Cornish, Poet Laureate of Boston, MA
Bagels With the Bards #5
The work here is as individual and unique as each contributing Bard. Delighted readers will find a variety of styles and forms, including ekphrasia, prose poems, villanelle, and free form poetry. Between these covers can be found little day-to-day deaths, dreams, and wounds, lost causes and dead ends presented in playful, whimsical, and experimental ways. If you haven't discovered the Bagel Bards yet, start with their latest anthology. Short of having breakfast with them at the Au Bon Pain, reading the results of their Saturday mornings is the next best thing. — Laurel Johnson Midwest Book Review
Bagels with the Bards #6
Once a year, we celebrate our writing by putting together an anthology. It is as democratic as our gatherings — if you're a Bagel Bard, you're in. But this year I asked each Bard to submit three pieces, so I could choose among them. I'm glad I did, because I always found one piece that was stronger than the other two. Consequently, I think you'll find this an interesting collection, with styles as varied as the personalities of the Bards. Enjoy! — Lawrence Kessenich, Anthology Editor
Bagels with the Bards #7
If you were to ask me about one of my best days or my most memorable poetry experiences I would fold them into one and say the day I met Doug Holder he invited me to the Bagel Bards at the Au Bon Pain in Davis Square, Somerville MA.
I had not heard of the group, but from my first visit I was made to feel at home, like walking into a living room
of cousins I had not yet met. This group, however, was far more eclectic, diverse and totally literary. Men. Women. Caucasian. African-American. Seniors. Young. Jews. Christians. Novelists. Teachers. College professors. Mental Health workers. Artists.
I probably have not named them all, but you get the idea: a melting pot of heterogeneous creativity. Here were people with whom I could associate on many levels.
I am told it started eight years ago.
Doug and Harris Gardner, another fine poet, decided to start "Breaking Bagels with the Bards" - now known as the Bagel Bards.
It began modestly with a few people and has grown to as many as fifty on any given Saturday.
Bagels with the Bards #8
Nine years ago two poets Doug Holder and Harris Gardner, were having breakfast when they decided to form a writers social group, "Breaking Bagels with the Bards."

This is now known as the Bagel Bards. It began modestly with a few people and has grown to as many as thirty-five on any given Saturday.

From initially a small group, Bagel Bards now has more than one hundred and twenty members.

To join, one need only attend once. There are no attendance requirements, no dues, no fees.
Who comes to these Saturday gatherings?

Well, you might run into Boston Poet Laureate Sam Cornish or maybe novelist Luke Salisbury.

Then again, poet Afaa Michael Weaver may be there.

Poet, memoirist and teacher Kathleen Spivack may be found chatting. Gloria Mindock editor of Cervena Barva Press, is usually an attendee. And there are many more wonderful writers who have been published, and a number of others in the process of writing or finishing books. Most have seen their work in print, in hard copy, or online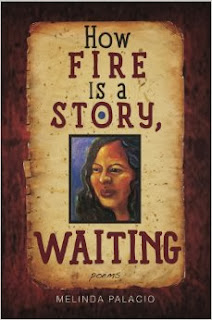 How Fire is a Story, Waiting, Melinda Palacio (Los Angeles, Ca: Tia Chucha Press, 2012), 107 pages, paper. ISBN: 978-1-882688-44-9. 14.95
Review by Joanne DeSimone Reynolds
Nothing less than the four elements and a fierce love of home guides Melinda Palacio's first collection of poems, "How Fire is a Story, Waiting." And by home I do not mean only the barrio of her upbringing in California or the Mexico of her ancestry or the cities of the south and the west she now calls home, but the bare fleshy hands of her grandmother at the stove. Because, after reading the first, and title poem, a reader fairly feels the generative power of those hands. Here is the first stanza of the poem from the section titled "Fire:"
My grandmother caught the flame in her thick hands.
Curled fingers made nimble by kaleidoscope embers.
Fire burns hot and cold if you know where to touch it, she said.
Who wouldn't want a grandmother like this one "with her deep, cinnamon stick voice . . .// Her body, heavy with worry for two families and three lifetimes . . . tuck[ing] Mariachi dreams under her girdle. Lullabies escap[ing] on mornings / warmed by her song falling into gas burners turned on high." A few pages later in the poem "Abuela's Higuera" the woman's strength, both literal and of her character, is witnessed as the poet lets her do the storytelling: "I remember the time your father was trying to kill my / daughter with a brick. Beneath the shade of my fig / tree, he beat her. Your abuelo told me to stay out of it. But if / it weren't for me, the good-for-nothing would've killed / mija with a brick. On my way out the kitchen door I / grabbed my rolling pin." Talk about cool under fire.
Such a ferocious mother-love. The woman's center holds and her story becomes inspiration.
And as she comes of age, the narrator will call upon this inspiration to help make sense of the troubled world around her. In the affecting poem, "El South-Central Cucuy" she states: "My uncle said I wouldn't have a life. Sorry, la little Minnie, he snarked, / Dah, ha, ha, he laughed. / If the Cucuy doesn't get you, the Bomb will." "Cucuy" is a kind of boogeyman, the fear of which is weighed against the fear of nuclear annihilation. But, it is a more immediate fear that preoccupies the narrator. For her, walking to school or sitting on the stoop can be deadly. The poem continues with this description of her neighborhood: ". . . a battle field with its random bullets, / helicopter searches for who knows whose father, brother, son, / enemies of the state, the police call them. / . . . Welcome to my barrio." She has few protectors; her father, we soon find out, is in prison. On the rare occasions when she sees him, usually in prison, she wonders: "How do I talk to the charismatic lunatic, my father, the criminal with the psycho gene and tangled gypsy beard?" from the poem "Dancing with Zorro's Ghost." And, it would not be unreasonable for a reader to ask: How does a girl walk through that barred gate? And why should she have to? In answer, the narrator offers a list poem titled "Things to Carry." Here is a sampling: "Twenty one dollar bills for vending machines . . . A sealed package of tissues . . . Photo tokens for a family portrait in prison . . . Your ID locks you in and sets you free . . . you force a smile . . . but the last thing you want is another prison visit."
Fortunately, the narrator carries within her the light of her grandmother's flame which frees her to explore a more playful tone. Here is the concise lyric "disconcerted crow" from the second section titled "Air." One can feel the crow's frustration in the deft handling of the first stanza:
if only his bird suit fit, he
grumbles and caws, drives
away his dove friends, he
pecks at uneven bristles, he
flaps and folds starched wings.
familiar feathers hang all wrong
like borrowed funeral clothes
Playfulness, too, in this excerpt from "New Orleans Native Son" found in the book's third section, "Water." Note how another imposing literary insect is brought to mind:
. . .The
lone rat rustling in
the banana tree won't
bother me. Crows wait
for my sweet slumber, dive-
bomb the neighbor's yard.
There is one creature
I can't ignore.
His primordial wings
spread colossal and proud.
He looks bigger poolside
as feelers twitch, sense a party.
The Mexican-American experience is no less essential to our collective national history than other immigrant experiences. Many of us define ourselves with one or more hyphens. And with immigration a hot political topic, Palacio's narrative is timely. A survey of a few of the first lines of the poems is indicative of the easy mix of our cultures as well as of its tribulations:
My sister dances salsa at Stephens's Steakhouse
His heart thumps Panama, where's he's from
Swim with your clothes held high above the water
Her name's irrelevant if all you see is color
Dip your feet into False River
Joann wants a job, but not that one
There is longing in these poems, as well. And hard-earned, if sometimes quirky, wisdom. In the poem titled "Laughter" there is a palpable yearning: " I long to be cradled by cloud, sus / pended and sheltered. I listen to the words of the Grand- / mother Spirit. My elder says look beneath your skin and / you'll see the loneliness in your veins . . . I laugh harder / because the wild woman is my mother." And from "Water Mark:" "A river runs beneath my house / white foam, greenblue mud, a Eureka stream of gold. / Water so urgent, rushing like a stampede, catching / tomorrow's California claim jumpers // Wild west talk of black bears and banana bread. / Don't leave your doggy biscuits in the car. // The river rattles innocence and much to my surprise my heart aches / for the child I once was, before broken levees and the / floodgates of hell descending upon my town."
Palacio's poems are marked with nothing if not dignity. "Iron Cross Suite" which is the final poem of the collection from the section titled "Earth" is written with tenderness, but also with an unusual and endearing wit. A long form elegy, it recalls the heartbreaking desperation to obtain last rites for a mother; and it is interwoven with elements of the Catholic Mass and the last of the mother's advice. In such a moment of terror, urgency is the operative word, and the desire of the mother to say something meaningful to her daughter resonates with touching grace: "Bless this house with passion. // In memory of me, / Don't go out with your hair wet. // You have my blessing to live your life, grow up. // . . .Do you still give equal weight to chocolate and boys? // Talk to me. I hear you, though my life on earth is over. // I live between orange clouds and the moon. // . . . See my orange cloud when you most need me. // . . . Do this in memory of me."
In all, "How Fire is a Story, Waiting" is both a broad narrative and a compelling personal journey. There are many poems here to admire. "The Blue House," about Frida Kahlo, "Wooden Crosses," about the markers in a cemetery where the grandmother's children have been buried, and "Mesilla Sunset," with its beautiful evocations of the shape-shifter: "The turquoise sky so vast, you'll never see the same cloud twice. / Was it the coconut cloud, twisted like a bear? // Or was it you, shape-shifting, becoming a cicada, / buzzing in praise of Saturday's pink twilight . . ." Topping 100 pages, the collection might have been tightened up a bit. But the poems, organized into four thematic sections, each separated by graphics that use a large appealing smoke-like font, are easily read and returned to as one might for nourishment to a stack of Grandmother's tortilla