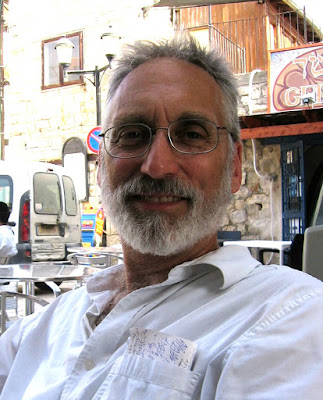 Steven Scher
A native of Brooklyn who now lives in Jerusalem, Steven Sher is the author of 15 books including the forthcoming (2016) Uncharted Waters (Feral Press). Two recent poetry titles are The House of Washing Hands (Pecan Grove Press, 2014) and Grazing on Stars: Selected Poems (Presa Press, 2012). Since the 1970s, his poetry and prose have appeared in hundreds of journals worldwide; he has worked as an editor, media consultant and journalist; and he has taught at many universities (first at Brooklyn College, where he worked with John Ashbery during his MFA) and writing workshops. He continues to lead workshops (for organizations such as Poets House in NYC) and lecture on writing.
RETIREMENT
He had retired to Florida in part to savor
mornings, trading coat and tie
for a life of socializing, golf and cards.
Yet he needed to build stamina for such a life,
another of the northern newcomers
who flocked like migrating birds
to the paved mile lap around the lake
past pastel-painted condos and stately palms
that stretched and bent as if preparing to walk
along beside him. Each morning
when he stepped outside, an orange sun
like a weak heart hung above the horizon.
By the time he was done, the light would burst
across the sky. His silence matched his stride.
Sweat soon pinched his tee-shirt to his skin.
High gray clouds like gauze had come unwound.
My father's face paled at the fast pace,
but he refused to slow, irrefutable proof
that he was fine. Now their building was in sight.
Hands resting on his hips like an emptied pitcher,
my father slowed to a stroll. Having drawn
from his reserve, he would need to replenish it.
On his return, my mother at once would hover
over him with questions and then food.
Later he would fall asleep in his chair
on the screened porch, a practice he had
only recently begun, and wake relieved
from his dark thoughts hearing his name repeated.