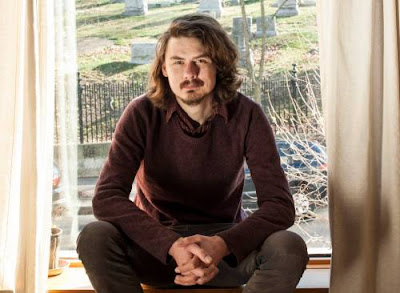 Eliot Cardinaux
First, the title:
Dreadsummer.
Before I'd read a single poem, the title bespoke (to me) some call of the wild, a terrible loss, a subject matter emotionally wrenching, like Heathcliff and Catherine tragic love. And I was wrong, but I was close. This chapbook of poems by Eliot Cardinaux turns out to be much subtler and more musical than my cheap dramatic expectations, but I would not be exaggerating to call the poems odd, like dreams, and arresting, invasive, suggestive, and large
in
their life upon the page. They live.
To go straight to a poem that clasps you in its arms and then—wonderfully—lets you go, "To Osip Mandelstam," the young poet speaks directly to the great Russian. He "lays these things down for the first time," he says, "in a grave," and ends up "saying these things out loud." That is how the poem ends, with a spoken voice, a bare, respectful, and
dedicated
voice that hints of Whitman's wide embrace or Louise Glück's lucid garden secrecy or the strange (yet common) unforgettable imagery of Elizabeth Bishop.
But Cardinaux is no imitator; he is not afraid to lay down his own word or phrase, seemingly detached, and let it fend or float for itself. In the book's first poem "Sigil" he writes, "I grieve my splinter out"; in "Procession" it's "Your breathing broke across the bow," and then "I walk with my nostrils down." Splinter! Nostrils! Breathing an ocean wave! The man has perfect pitch, and produces heartbreaking and thrilling images. He is thoughtful. He fulfills his subjects. His poems are intimate, evocative, assertive, exquisitely sensitive to all that's alive, and he does it with a few words. He reveals the catastrophe of existence, the completeness of loss, and the phantom mind of a rose that, in the final poem, "A present history of air,"
that the present is history.
If you care to slow down, you can hear the internal rhymes and personal rhythms.
There is something new about Eliot Cardinaux's voice, too, or perhaps reborn. He can conjure little sparks of Akhmatova, cries of the innocent in Blake, touches of Frost. And he has a sense of humor. "A snake was charmed / on the eve of possession" begins the poem "Allegory"; but it takes a serious turn soon enough, as one image consumes another in a "lover's last poem / whose head witnessed everything at once." Everything at once? Whose head? Whose everything? We are not instructed. Cardinaux continues:
Their escape is the smoke
under the light of migraines
brought weak death two scales.
We're talking notches on belts and musical events. These poems play with words seriously but wittily; they require one's full attention. They are for quiet readers who have some literary familiarity, can catch a hint, can see a line go into a cartwheel, and are attentive to spoken sounds and imagined images.