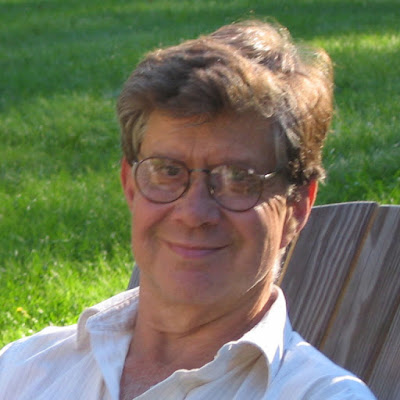 Llyn Clague is a poet based in Hastings-on-Hudson, NY. His poems have been published widely, including in Ibbetson Street, Atlanta Review, Wisconsin Review, California Quarterly, Main Street Rag, New York Quarterly, and other magazines. His seventh book, Hard-Edged and Childlike, was published by Main Street Rag in September, 2014. Visit www.

ll

ynclague.com
Hunger In A
New Yorker
Poem
Visual, sensual, genteel,
the poem "Quahogs" in this upscale
mag jogs forward in a tide-steady
rhythm, measured, controlled,
describing clamming by the sea.
Auditory, olfactory, tactile,
in verbal as well as physical
markers, the verse progresses
from tidal flats to rake tines
to the character and color
of the shells: "Opal or pearl …,
their whorls and purple stains."
Compact, concrete, picturesque:
it's a best-of-friends evening
scene, with the "sky blazing,
its sinking orange fire."
With even "the air in savor,"
delightful "precious butter"
drips on "the succulent
of the freezing dark sea."
Sandily gritty, precisely
specific, grandiosely
the poem raises its sights
from one night's appetite
for clams and friends by the sea
to the notion of a durable,
universal human hunger,
a "domain immeasurable."
Delicately, tastily, prettily
worded, its private hankerings
lead to yearning for meaning,
universal, noble, eternal.
To the hunger, very measurable,
of people not clamming by the sea,
this verse avoids allusion,
artfully, assuredly, gently.