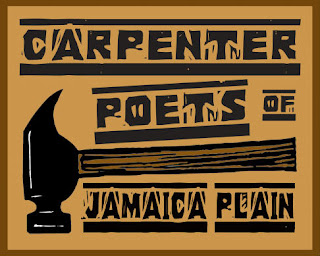 Break Time. Edited by Joseph Bergin. http://carpenterpoets.org
In the Boston area, like many other enlightened urban areas, we have poets of all stripes living and reading in close proximity. Off hand I can think of the SLAM poets at the Cantab Lounge in Cambridge, the STONE SOUP POETS at the Out of the Blue Art Gallery in the same city, the Bagel Bards who bake in the summer sun at the Au Bon Pain in the Davis Square section of Somerville, the high-toned, and rarefied academic crowd who congregate at the Blacksmith House in Harvard Square, and the list goes on… Well, a few years back, a group of carpenters was working on a mansion on Fisher Hill in Brookline, Mass, when they came across some poems from "Hammer," by poet and carpenter Mark Turpin. Basically these blue-collar bards were up to the challenge and they started to write poems about carpentry. They had a poetry night and nineteen men and women read their work, and so the " Carpenter Poets" of Jamaica Plain were born. In the introduction to this volume it is written:
"There's much to be said about parallels between writing and carpentry. There's the act of creating something out of common supplies, fitting board-to-board, word-to-word, the beauty of the product and pride in the craft. The house we live in, the poem that lives in us."
Many of the poems in this collection marry many of the varied props of the carpentry life to the life- at- large, and the life of the poem. The poems are fleshed with the unexpectedly beautiful objects and moments that these men and women encounter in their day's work.
In the poem "Machine," by Noah H. Gordon an old carpenter and bard evokes his carnal younger life inspired by a dusty lumber room:
"With Honey flow through lumber room dust
as my mind harkens back to that younger time
I wish a miscut was my only crime
Lord, let me at long last be free lust…
Now as I pass my hands along the wood
It is as though your warm flesh I caress
We merged for a moment in the darkness
And then we were swept along in life's flood
I've learned to drill out love in the machine
Drifting in the world like I'm in a dream."
Recommended.
Doug Holder/ Ibbetson Update