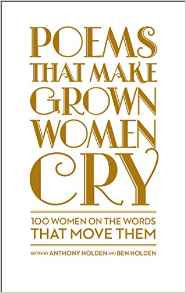 Poems That Make Grown Women Cry-100 Women On The Words That Move them.
Edited by authors Anthony and Ben Holden, and published by Simon and Shuster in concert with Amnesty International.
Review by: Bridget Seley Galway
Father and son team Anthony and Ben Holder, working along side Amnesty International, not more than a year ago, edited their first anthology, Poems That Make Grown Men Cry. Following it's success they decided to ask the same question of 100 remarkable award winning women writer/poets, actors, musicians, public figures, academics, and activists.
Such noted women as, Judy Dench, Joan Baez, Nikki Giovanni, Joyce Carol Oats, Kate Allen, Lydia Davis, to name a few. The introductions to each poem chosen by these 100 women are poignant, and often profoundly personal.
Every form of loss experienced within our human condition has been defined, by the 100 poems, which bless the pages of this anthology; loss of life, dignity, love, home, country, and self.
It has been difficult to leave myself as much as possible out of the composition of this review. I can only say that I have experienced some of the losses defined through many of these brilliant beautiful poems. They have thrown me back into the moments of those experiences that gripped my heart and brought tears to my eyes.
At the same time, I was moved forward with extreme empathy into the immense grief and sadness of experiences beyond my own. Although those experiences can be inexplicable, the chosen words of the poems in which they are described, form a tangible island of poetic power, they pulled me into those foreign lands, and I now hold indelible in my heart.
There are many poems that I would like to highlight within this review, because their meaning has haunted my being in silent memorial.
The highest compliment I can give to the poems I have chosen, is they have captured the parts of me that have been whirl pooling in the well of my heart, and I have yet to reel them up to lay to rest, as these 100 poems have, in a peaceful resolve.
I will begin with a stanza from a poem chosen by women activist Helen Pankhurst, from John Clare's "I Am"- "Despite the undertones of madness, it is one of the most lucid poems about sadness and loneliness I have ever come across."
"I long for scenes where men have never trod
A place where women never smiled or shed a tear
There to abide with my creator, God,
And sleep as I in childhood sweetly slept,
Untroubling, untroubled where I lie
The grass below-above the vaulted sky."
John Clare wrote this poem while in the Northampton Asylum. "I Am" continues to be my favorite poem which defines the loss and want of self. His words are both a constant harsh effusion of emotion, and as tender as a silent tear.
Although I believe in God energy, and not God as an entity, it is of no consequence, as this poem defines my souls yearning when I have felt the loss of self.
Taiye Selasi, writer, filmmaker, activist, chose Warsan Shire's poem, "for women who are hard to love"- "I'd been trying to make a home out of a human being for my heart too wild, too fragile, too trustful, too untrustful, to be housed. Then I read these lines by Shire, I knew that my longest search was utterly, utterly doomed."
"and if he wants to leave
let him leave
you are terrifying
strange and beautiful
something not everyone
knows how to love"
Taiye Selasi has described with perfection how this poem touched me.
Anne Enright, author of "The Gathering as well as five other novels, and won the Man Booker Prize in 2007, chose Mark Doty's poem "Michaels Dream (from Atlantis)" -" The loss is always there, ready to ambush and undo, and Doty's work is always there too, when I need the courage I saw in those terrible days, and how we rose to meet our sorrow."
"in this raddled and unraveling 'here'.
What is the body? Rain on a window,
a clear movement over whose gaze?
Husk, leaf, little boat of paper
and wood to mark the speed of the stream?"
Mark Doty's poetry documents the devastation of AIDS. I lost so many dear friends to AIDS during my young adulthood, a time when we were celebrating our individuality. In memorial to the ones I lost, as I know they would have all wanted, I acknowledge one thing of beauty daily.
Scottish novelist, Jackie Kay, chose Anne Sexton's " Unknown Girl in the Maternity Ward" - "I am still undone by "Unknown Girl", heart broken for the mother, for her tender love for her baby, her "funny kin", all mothers in whatever circumstance, who lose their babies
"I touch your cheeks like flowers. You bruise
against me. We unlearn. I am a shore
rocking you off. You break from me. I choose
your only way, my small inheritor
and hand you off, trembling selves we lose.
Go child, who is my only sin, and nothing more.
This poem defines the extreme depth of a mother's unconditional love, and the strength of what a woman can bear.
I chose to sum up this review with actor of stage and screen Claire Bloom's choice, Elizabeth Bishop's, "One Art". -" The ironic tone of this poem hides a deep and enduring sorrow, only hinted at in the last devastating line."
One Art
The art of losing isn't hard to master;
so many things filled with intent
to be lost that their loss is no disaster.
Lose something every day. Accept the fluster
of lost door keys, the hour badly spent.
The art of losing isn't hard to master.
Then practice losing farther, losing faster:
places, and names, and where it was you meant
to travel, None of these will bring disaster.
I lost my mother's watch. And look! My last, or
next-to-last, of three houses went.
The art of losing isn't hard to master.
I lost two cities, lovely ones. And, vaster,
some realms I owned, two rivers, a continent.
I miss them, but it wasn't a disaster.
-Even losing you (the joking voice, a gesture
I love) I shan't have lied. It's evident
the art of losing's not too hard to master
though it may look like (Write it!) like disaster.
I decided to end with this poem in its entirety, because it enshrines the sense of all loss.
Whichever of these 100 poems bring tears to your eyes; they will remain within the rhythm of your heart.
.