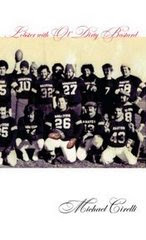 "Lobster with Ol' Dirty Bastard" by Michael Cirelli
Hanging Loose Press, 231 Wycoff Street,
Brooklyn, N.Y. 11217
ISBN - 13:978-1-931236-96-6
Published 2008
Review by Mike Amado
Set against an NYC skyline, Cirelli winds his tales about his dad, love for words and musicand gives a human element to all three. In "Lobster with Ol' Dirty Bastard", Cirelli is on a gangsta lean in a baby Benz blasting old school, riding the seemingly safe daytime streets of craft-poetry, then turning down those dark alleys where the tension and bravado are thick like ". . . machetes in the air waves". Cirelli definitely makes it with the Hip-hop heads with his rap culture overtones. (Example: Ol' Dirty Bastard, real name Russell Tyrone Jones was a member of the Wu-Tang Clan, the rawest M.F.'er of that influential Hip-hop group). There's more: the titles of each section are propsto albums past and present like, "3 feet high and rising" by De La Soul (1989),"The headphone Masterpiece" by Cody Chesnutt (2002), "The Love Below"by Outkast (2003) - and that's just the section names,
I can go on and on 'til the break of dawn.
At every turn, and twist of words, Cirelli reveals. New York City is Loud is a poem ripe with original descriptions, depicting a world of "skyscraper fingernails",
police sirens that "scream like a phone call/ at 4 am to explain /
how the last drop of air clicked away/ from your father".
Even, the nudge of a glassy leather shoe to
the flank of a homeless man making the sound like kicking a tin can.
I guess, when you're a Hip-hop poet with an MFA, just the mere spanning of the
extremes will pop up in your writing. And it hollas in "Lobster . . ."
"Cutting Stevens", is a recount of Cirelli being hired to teach a literature seminar,
" . . . a snow flake, the son of a snow-dealer. . .", where, the works of
Wallace Stevens were to be cross-compared with the rapper Young Jeezy.
" . . . who dons a glittering snowman / on his chest. T
he snowman being the metaphor / for cocaine of course."
To the speaker, "It was like winter on Pluto".
"The seminar was part
of the university's campaign to appeal to "urban"
students, and they named it Lit-Hop . . .
The snow piled up like penguins
and sea lions, and many classes were canceled
that semester. To rectify, I had to cut lessons,
lop the hands off of poets, remove the icy watches
from rappers."
He also gives himself big lee-way when it comes to his own work.
In "Best Use For My Poems", the speaker is at a poetry reading where no one's
feeling him and his words. His three-year-old nephew picks up his uncle's poems,
and besides using it as a billy club, a blurry baton and then a telescope . . .
"the long white / cylinder of my unmoving words, and held it to his mouth /
like a mic, and lip-synced some tongue I was too old to/ remember"
Cirelli's work is tagged like a wall with the themes of music, his father and poetry,
in a loud-ass montage of catalog. "Lobster . . ." is an all-night convenience store
of lyrical goodies with no Twinkie-fluff in sight, "Lobster . . ." is also a
consignment shop of Hip-hop history.
Mike Amado/Ibbetson Update