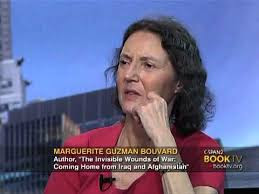 Marguerite Bouvard
For many years, Marg
uerite
Bouvard
was a professor of political science at
Regis College
and a director of poetry workshops. She is the author or 12 non-fiction books in the area of women and human rights as well as 8 books of poetry, two of which have received awards. Both her poetry and essays have been widely anthologized.
Marguerite has received fellowships at the Radcliffe Institute, the Wellesley College Center for Research on Women and from the
Puffin Foundation
. She has been a writer in residence at the University of Maryland and has had residencies at the MacDowell Colony, the
Yaddo Foundation
, the
Djerassi Foundation
, the Leighton Artists' colony at the
Banff Centre
and the
Virginia Center for the Creative Arts
.
Marguerite's activities as a resident scholar include organizing the first
Tillie K. Lubin Symposium
, as well as sponsoring lecture series on women and human rights and on environmental racism. Marguerite was also a founding editor of the All Sides of Ourselves publication series. She continues to organize panels for Women's History Month and has had two collaborative exhibits at the Dreitzer Gallery and one at the gallery in the Women' Studies Research Center.
Current Projects
Research on the wars in Iraq and Syria, and the international response to refugees.
In Secluded Cove
Beyond Poela Bay, naupaka, creeping vine
with its maze of bark like stems,
gleaming white buds, holds
the volcanic and granite rocks
that rise above the clanging ocean,
covers up the flotsam dumped
by the heavy surf, keeping water
in its leaves in time of drought
and traveling in waves over the mountains
as the earth that is laid bare
changes, and turns on its molten
around us that will outlast the jeeps
and trucks on winding roads,
those who build fires at night
the wet cement of the highways.