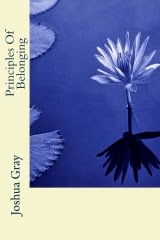 Principles of Belonging
By Joshua Gray
Kodailanal International School
Kodailanal, Tamil Nadu, India
Red Dashboard LLC Publishing
Princeton NJ 08540
www.reddashboard.com
ISBN-13: 978-1492993506
101 Pages
Review by Dennis Daly
Audacity and ambition fused to a poetic temperament can get you a long way. Joshua Gray in his second book of poetry, Principles of Belonging, pushes the envelope in his artistic efforts to create a masterpiece of poetic unity. He nears a crescendo, but doesn't quite get there. Yet he does give us a compelling narrative encompassing national tragedy, dysfunctional families, young love, and an overview of life's ironies. That ain't bad. Along the way Gray melds Sanskrit meter, Anglo Saxon verse, Welsh measures, blank verse, free verse (sometimes rhymed), not to mention sonnets, other rhymed poems and a sympoe ( a strange poetic form invented by Gray).
The Sanskrit lines, the rules of which were developed well before the Homeric Age, soothe you with their subject appropriateness. The lines or padas are four feet of four syllables each, making sixteen syllables on a line. Excessive syllables are sometimes okay, but are not counted. The syllables are considered light or heavy depending on the juxtaposition of consonants and vowels. The rules are really simple and elegant and, in narrative forms, almost prosy. Gray avoids numerical intricacies and high art sophistications, keeping the original rule-based simplicity in his English adaptations. Keep in mind that virtually all Sanskrit, including law, science, and mathematics, was composed in verse. For those interested in further pursuits of this form I found a book by Charles Philip Brown written in 1869 entitled Sanskrit Prosody and Numerical Symbols Explained (London 1869). It appears to be part of an academic collection and is easily located on the internet.
Here are two padyas (stanzas) from Gray's poem Village detailing Hindu cultural differences between the sexes,
So honey was kept hidden away. Gan thought of when the man,
the honeywala, left last year: Gan and his brother Jay had wanted
honey; they snuck about the kitchen, but their mother had seen them, grabbed
a log from the fire, then chased the boys around the house as they ran out.
She knew full well the boys would not be back home until late; the law
states that women must not eat before the men (and boys); thus,
she and Devi, her teen daughter, must wait until the three men ate
before either of them could. The boys stayed out past the rise of the moon.
In the poem West Bengal Gray outdoes himself with a haunting political and personal narrative. The poet, using his Sanskrit meter, begins his piece this way,
The next morning the train stopped in some town and everybody got off.
Hindus who rode the train roofs now descended; further off a crowd
of Muslims waited to board the train traveling the other way.
A sole chai-wala called out as he walked, clay cups in hand, hot chai balanced.
The Table of Contents in The Gathering Principle begins in 1947 and ends with an Epilogue in 1994. The poems order themselves around human relationships tracked over the years. Oddly, Gray also orders them by poetic forms. For instance, in a section identified both with a date (1961) and the title Cynghanedd, Gray gives us three poetic adaptations of medieval Welsh verse. Cynghanedd literally means harmony and is a system of assonance and alliterations. The poet ends his piece Wildflowers harmoniously,
On school days she'd wait, anticipating
The weekend, go to the creek and quietly
Harvest the richest hues; sometimes Bluettes
Would even mindlessly find a new future.
With her brothers or alone, her brothers fighting or stoning
Trunks, she plucked not meanly but fondly, green and gold
And white as Fern Hill. The air could be chilling
Or warmed by the sun, the wonderful flora could take her in winter.
Elaborate and elegant both! Gerard Manley Hopkins used this form to great effect and Dylan Thomas was clearly influenced by it.
The sonnets and rhymed poems in this collection are a mixed bag. Some work very well. Others less well. An untitled sonnet example on page 89 that works extremely well deals with childhood's faulty memories and compensating emotions. Rhymes fall naturally in place infusing the story with complexity. The poet asks,
How does one tell when another's truth is wrong
As well? If Devi's lost her memory
Perhaps it's mine where truth can truly be.
I will not dance to illusion's crippling song.
My parents stayed behind, or so I'm told,
And didn't travel with us on the train.
So where did all that I recall take place?
When Jay took off and left us in the cold,
To prevent myself
From being a child insane,
I must have placed my parents in that space.
But even the poems that clank with obvious and sometimes forced rhymes need only a minor change or two. The last end rhyme of the poem entitled Rick sounds a little off, but the first thirteen lines are perfect. The poem ends this way,
So I went and told her why myself, but she beat
Me to the story's end and laughed out loud:
This lady of light refused to keep me proud.
May I suggest that Gray needs to edit a few of the rhymed poems in this collection, perhaps with a second set of eyes; and what is clearly a very, very good and interesting collection of poems may turn into a game-changer of a book. Speaking of editorial work, my favorite poem in this terrific collection, Doris/Deb, is placed on the wrong page in the Table of Contents (I'm reviewing from an electronic version). It relates the story of two struggling mothers and it reads wonderfully. Consider these lines, the first half of the poem,
Determined mothers make their children's clothes.
I find that poverty will likely breed
Necessity. When we could barely feed
Ourselves—our kids—I quickly learned to sew,
And walked a ways for fabric, rain or snow.
I sewed a costume once for Halloween;
The 'S' was crooked, the cape a little green.
And later, after Rick and I had split,
The thread and needle helped me quite a bit.
A single mother is often the one who knows;
Determined mothers make their children's clothes.
Just for its poetic nerve and intrinsic formalist interest this book gets an "A" as in audacious. With a nod to what this book may ultimately become, I celebrate its already significant accomplishments.
***** Originally published in the Fox Chase Review